Balancing Oil
Regular price
¥12,700 JPY
Regular price
Sale price
¥12,700 JPY
Unit price
per
Sale
Sold out
ーGOOD DESIGN AWARD 2022ー
Using our CBD balancing oil as a booster after cleansing and before applying toner, will enhance the penetration of beauty ingredients, leaving your skin bright and flawless.
CBD dropper skincare oil (513 mg CBD per bottle)
Content: 60mL
Approximate usage period: 5 to 6 drops per use
approximately 3 to 5 months (depending on the amount and/ method of use)
*Free shipping (Japan only)
✤We have a special offer for repeating customers!
We will provide a "coupon code" to repeating customers who fill out the "Write a Review" form before placing their next order, so we can offer them at a special price. Your valuable feedback will be posted on the site and used as reference for our future operations.
Share
Ingredients

Ingredients:Simmondsia Chinensis (jojoba) Seed Oil, Squalane, Macadamia Ternifolia Seed Oil, Cannabidiol (CBD)*, Citrus Aurantium Amara (Bitter Orange) Leaf/Twig Oil, Citrus Aurantium Bergamia (Bergamot) Fruit Oil, Eucalyptus Globulus Leaf Oil, Pelargonium Graveolens Flower Oil, Lavandula Angustifolia (Lavender) Oil, Cedrus, Atlantica Bark Oil, Fusanus Spicatus Wood Oil, Hippophae Rhamnoides Fruit Oil, Tocopherol *Cannabidiol (CBD);Skin-conditioning agent
How to use

Before applying lotion, take 4-5 drops on your hand and starting from the center of the face to the outside to the neck. Take calm, deep breaths while enjoying the fragrance. You can use as a booster to enhance the permeability of beauty ingredients.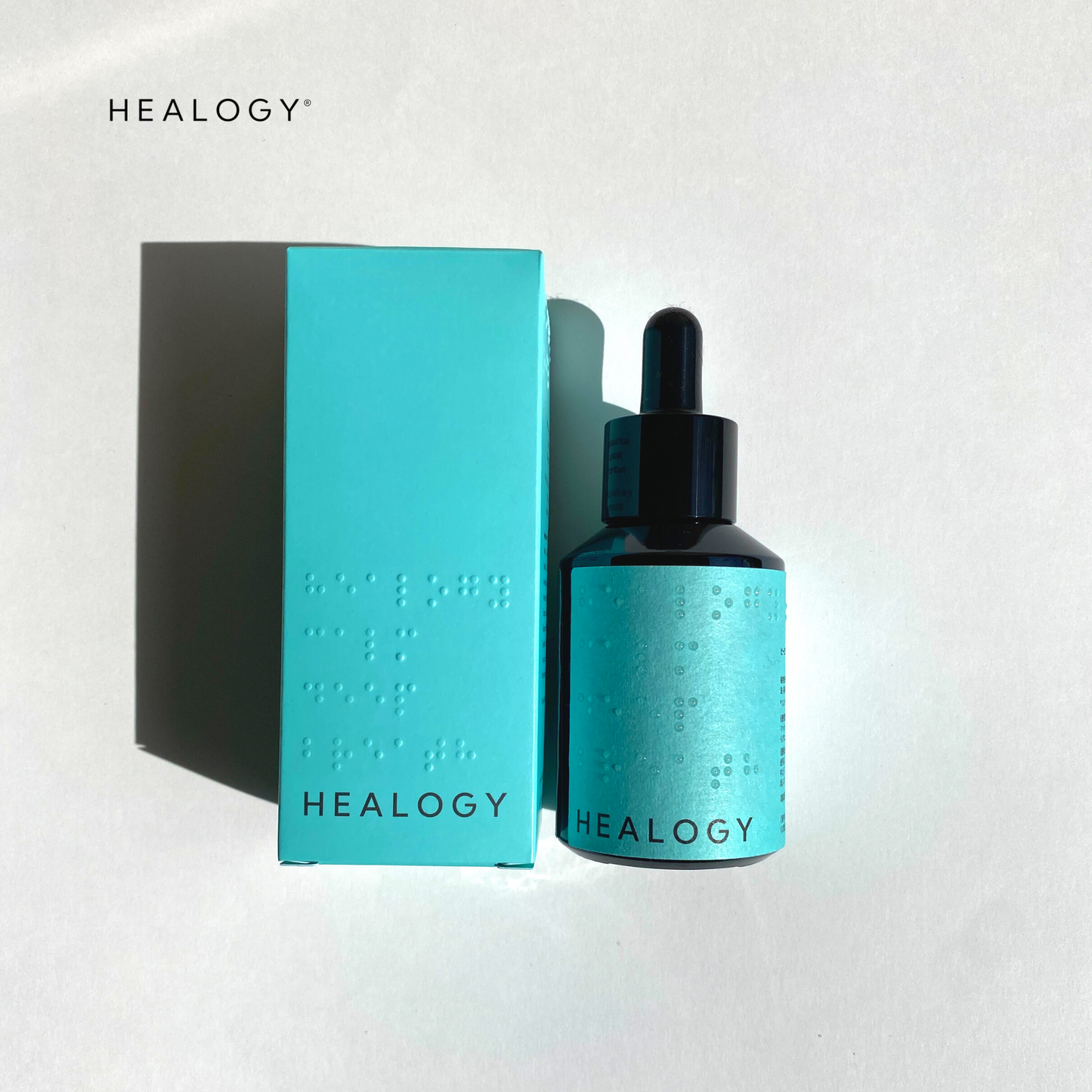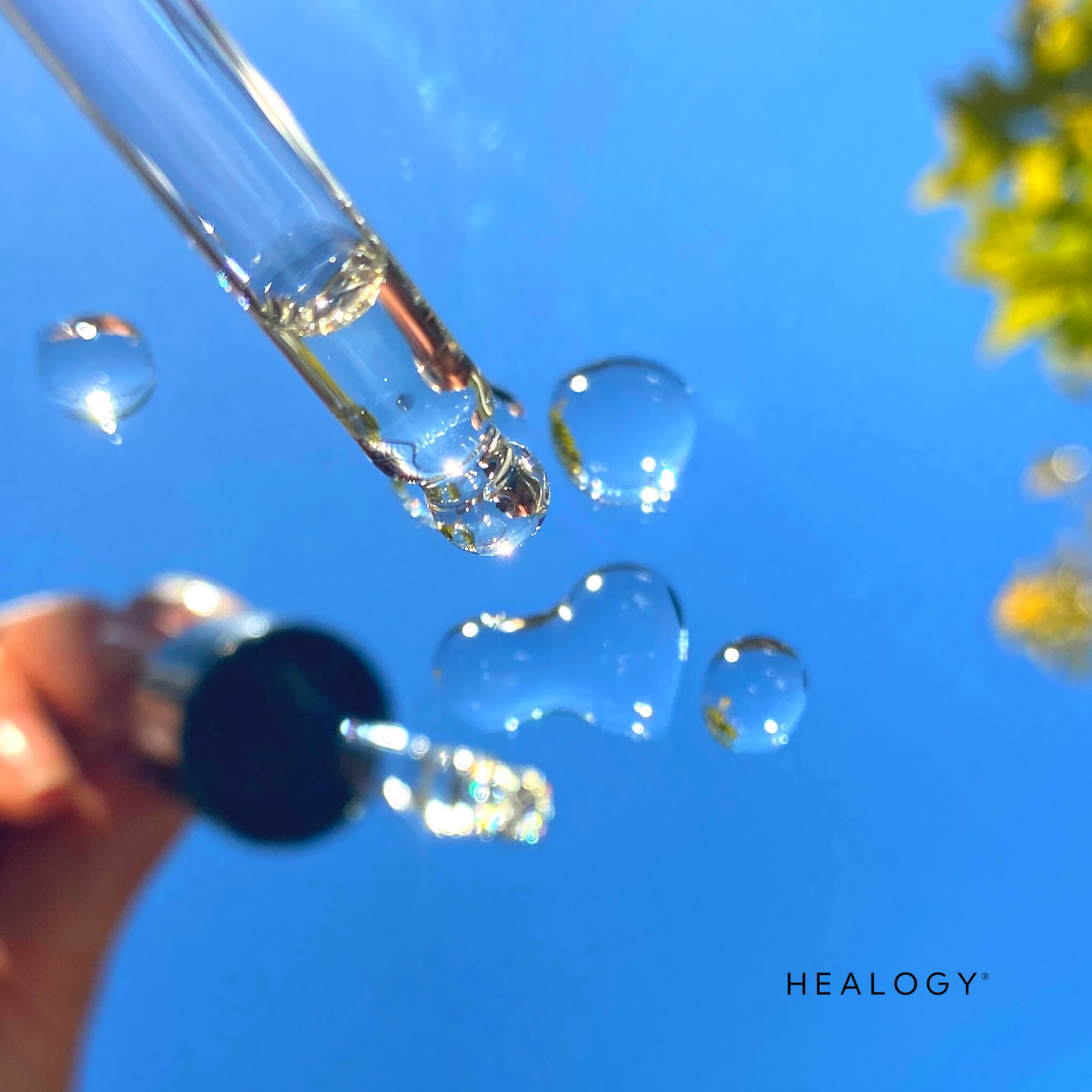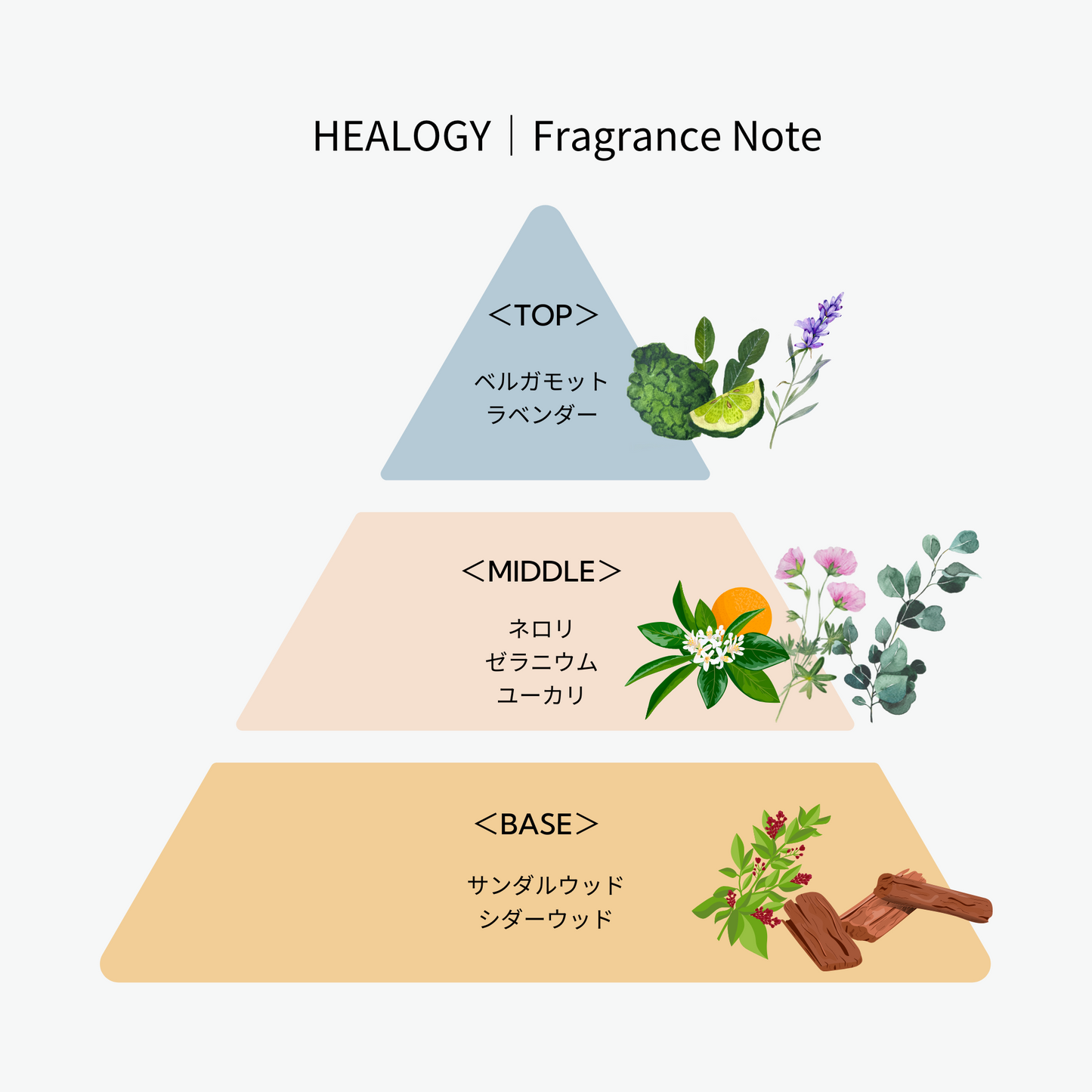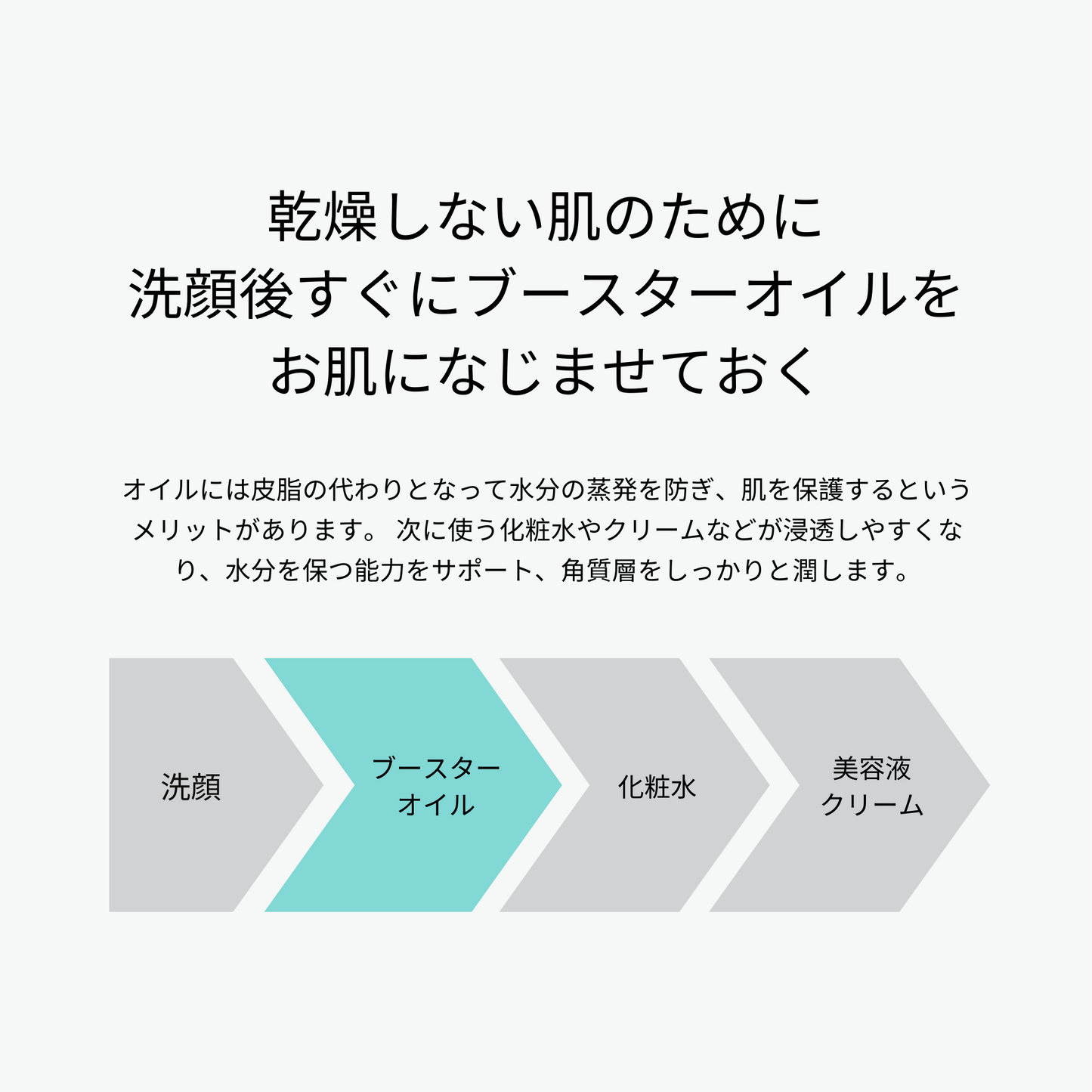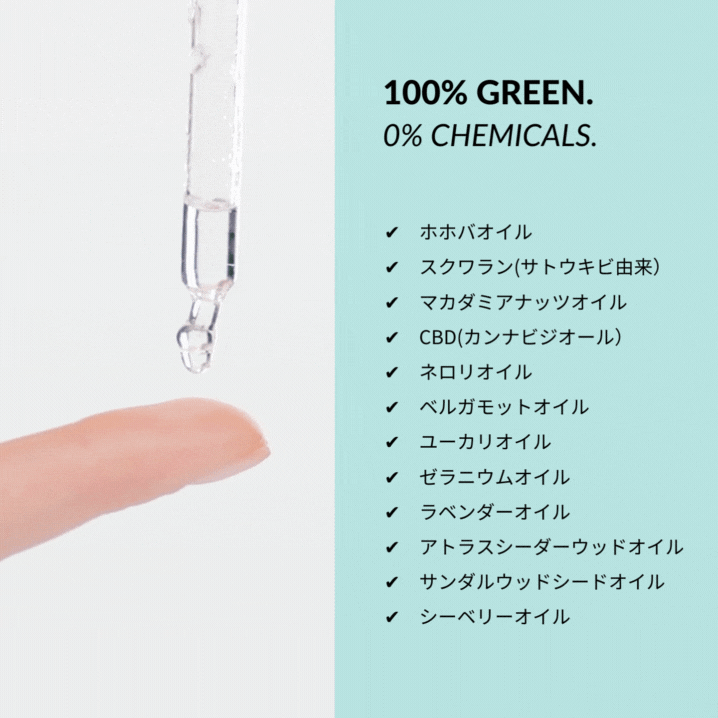 逸品!
スキンケアとして勿論、アロマのリラックス効果で癒されます。私にはもう無くてはならない逸品となりました。今回は大切な方への贈り物として購入。とても喜んでくれて私も嬉しいです。
ガサガサ肌がしっとりなめらか、ツヤ肌に!
子育て中で手抜きスキンケアの結果、肌が化粧水を吸わないようなガサガサ肌に…何かいいものはないかと探しているところで出会いました。CBDも気になっていたし、化粧水の前に使うということですぐ試してみると、ほんの数日で違いが出てびっくり!しっとり潤いを感じる肌に、化粧ノリも良く、肌ツヤもでて感動。ベタつかず、スーッと伸びが良いオイルなので少量でも顔全体に広がり、コスパもとてもいいです。癒される香りで使うのが楽しみ、自分のケアも大事にできるようになりました。
肌荒れ知らず
こちらのオイルをスキンケアに使ってから、肌荒れ知らず。ベタつかず、スッキリ肌に馴染む感覚も今まで使ってきたオイルでNo.1です。
極上スキンケア
素敵な容器いい香りに惹かれ手に取ったのが始まり、正直CBDを目的に探していたわけではありませんでした。お風呂上がりに使用するととてものびが良く、マッサージで更にぽかぽかしてきます。自然や環境への配慮、こだわり抜いた作り手の思いを感じ良い商品です。今度ボディ用に無香料を買って使い分けるつもり。
肌への浸透感がすごい!
お風呂上がりに顔に塗っています。
心地のよい香りとともに、オイルが素肌に浸透し、リラックス効果がとても高いです!オイルはベタつくことがなく、ノビがとてもよいです。お肌を整える作用が実感できています!パフォーマンスの高いオイルなので、オススメです!
Skincare is self-care. Self-care is about self-love.
Hence, we have crafted a high quality CBD skincare oil with the utmost care and precision.
Vegan

Vegan and cruelty-free products

Natural

All plant-based and paraben-free ingredients

Sustainable

Recyclable and eco conscious packaging